Newhouse Insider: Eating and Supporting Local in CNY
As graduate students, many of us find ourselves cooking more of our meals than we used to. Gone are the days of the dining hall or constant McDonald's dinners. I know I cook for myself six of seven nights a week.
One of the great things about Upstate New York is the availability of fresh produce. Making a habit of eating fresh produce helps keep me on track, eating healthy, and supporting local businesses and farmers. However, the amount of farmers markets and stands near Syracuse can be somewhat overwhelming. So I challenged myself to visit five different markets over a month to situate myself better and give you a glimpse into some local options.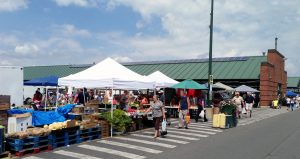 Syracuse Regional Market was the first one I went to, and maybe that was my mistake. It is the largest I went to, and I found myself slightly overwhelmed by the sheer number of stands. As long as you're okay with having to pass through aisles two or three times to see everything, the CNY farmers market can become a one-stop-shop. I left with vegetables, homemade pickles, and a basil plant, but one of my compatriots left with a new kitchen knife and jewelry.
2. Fayetteville Farmers Market
Fayetteville Farmers Market may not be as extensive as CNY, but it makes your shopping super convenient by being in a Target and Tops parking lot. It also has more delicious handmade pastries than most of the other farmers market, which is a plus in my book.
Probably the smallest building on this list, Syracuse Co-Op is also the closest, located just off of Westcott. Their colorful building can feel a little cramped at times, but their shelves are filled with all the necessary ingredients for a healthy dinner at home. They have a great selection of vegan/vegetarian meals and ingredients, as well as a whole bunch of alternative flours and kinds of milk.
Recommended to me by one of my classmates, Hafner's is my new favorite store. Not only do they have their fresh produce laid out at the front of the store, but they also have greenhouse upon greenhouse filled with plants. They also feature canned goods, including pickled carrots and garlic bread spread. However, the real gem of Hafner's is their half off produce table. Especially suitable for students on a budget if they have fruits or vegetables near the end of their shelf life, they get put on this table and sold at a considerable discount.
If you can drive 90 minutes to a farmers market, I can't recommend Ithaca Farmers Market enough. The stalls are placed in a "t" shaped covered wooden building and range from hot Tibetan food to a mushroom stand. Although this market doesn't have as many meat and seafood stands as CNY, their produce and local goods are just as extensive and much easier to manage. They also have a strictly enforced capacity, which means that although you might be waiting outside for a minute or two, the market itself doesn't feel crowded, and you can move through it quite quickly.
6. Bonus: Cazenovia Artists
We are quickly approaching the Holiday season. Although many of these places have artisan products that make great gifts, you should also make sure to have Cazenovia Artisans on your radar.
They operate a fully online store filled with their beautiful artisan products. Their brick and mortar store is located in Cazenovia, which makes a lovely day trip from Syracuse, and (in case you needed more motivation to visit) is located right beside a phenomenal Thai restaurant for all your mid-shopping food needs.
7. Takeout
If you're still overwhelmed by the idea of abandoning your tried and true grocery store, getting takeout from a plethora of local restaurants is a great way to support local business and shake up your meal planning.
As we enter the heart of finals season and the winter blues are fast approaching, eating healthy is more important than ever. Not only does checking out one of these places give you an excuse to get out of the house, but it also supports local business and might help spark some more creativity in the kitchen!