Newhouse announces Fall 2020 Dean's List
The following undergraduate students enrolled in the S.I. Newhouse School of Public Communications were among those named to the Dean's List for the Fall 2020 semester. To qualify for the Dean's List in Fall 2020, students must have completed a minimum of 12 graded credit hours and earned at least a 3.5 grade point average (on a 4.0 scale).
Students: Please contact the Undergraduate Advising Office at nhadvise@syr.edu with questions about your current Dean's List status.
Aamoth, Bridget Elizabeth
Aaron, Rachel G
Aaronson, Samantha E
Abaya, Karen M
Abdo, Christian James
Abkemeier, Kathryn Virginia
Adams, Christine Karr
Adams, Megan
Adams, Neil David
Adele, Chilekasi C
Adler, Adam Jacob
Adler, Talia
Ahern, Madison K
Ahuja, Mira
Akyurek, Selin
Alandt, Anthony
Albert, Amanda Nicole
Alfano, Benjamin
Alibrandi, Payton
Allison, Olivia J
Allsopp, Caitlin
Aloia, George Anthony
Ames, Madeline Eve
Angier, Jennifer Sharon
Angioletti, Mia Elisabeth
Aponte, Nicole
Appello, Christopher J
Applebaum, Nathaniel A
Aprill, Megan Kathleen
Aramboles, Nicole
Arifi, Fjolla
Arnold-Golden, Seth H
Aronson, Julia B
Aronson, Toby
Asch, Grace
Attinger, Evan W
Bailey, Anthony Christopher
Bailey, Caroline
Bainbridge, Carter
Baird, Emily Jean
Baker, Danielle N
Baker, Ryan L
Baker, Thomas Gregory
Balara, Rebecca A
Ball, Vincent J
Bambini, Cole A
Bantle, Kate P
Bard, Sophie Lauren
Barmore-Pooley, Wyatt Jameson
Baron, Sophie A
Barrett, Kaylee Lillian
Barrist, Kenneth J
Barry, Keira
Barsh, Jack Israel
Bartelstein, Drew
Bartling, Isabel
Bartram, India Elizabeth
Bass, Natalie
Batra, Vir S
Battaglia, Alexandra Rose
Baughan, Abigail Frances
Baughan, David James
Baylow, Samuel A
Beasley, Diana T
Beaudet, Nicole Elizabeth
Beck, Kayla June
Beck, Peyton Bridget
Becker, Adrienne Mary
Becker, Molly F
Becker, Sophia Faith
Beebower, Nicholas
Beek, Caroline Elizabeth
Behr, Michael D
Bekele, Isabel T
Belio, Cynthia
Ben-Ami, Charles Phillip
Benelli, Nicholas
Benson, Katelin M
Berenbaum, Mira L
Bergan, Sydney Angelina
Bergman, Emily Jo
Berke, Abant E
Berkowitz, Alex Evan
Bernard, Deigna M
Bey, Angelique
Biagi, Lily Grace
Bianco, Antonia N
Bichkova, Yana
Bilger, Allison R
Billman, Elizabeth Marie
Bilodeau, Eleanor J
Birnbaum, Starla Rachel
Bishop, Jaylen Deion
Bisignani, Alex
Bivona, Jack Kevin
Blank, Isabelle
Blay, Annie E
Blitzer, Carly Paige
Blosch, Alora Ryanne
Blum, Corey
Blum, Emily
Bock, Colin C
Bogdanoff, Phoebe Laurel
Booth, Logan Jesse
Boschetti, Allison
Boykin, Carmella R
Bradbury, Gregory William
Braden, Jessika
Bradley-Villarini, Daniel E
Brandes, Kirsten R
Breen, Connor Michael
Brennan, Kate M
Brenneman, Ava H
Brenner, Phoebe
Bressler, Rebecca Y
Bridges, Nina L
Bright, Emily B
Bright, Ja'Miera Eiyuana
Brill, Ellie
Britton, Ashley
Broccole, Anthony P
Broddus, Kendra Lynne
Broder, Eliza D
Broderick, Ashley L
Brodsky, Katherine G
Broom, Hayden Kinsman
Brown, Aidan M
Brown, Chelsea
Bruce, River T
Brunetto, Allison N
Bruno, Sydney Nicole
Brush, Bryan Robert
Buchalter, Hailey
Buddenhagen, Katherine Delaney
Buerle, Christopher Eugene
Bull, Alexandra Lydia
Bullock, Jordan Russell
Burke, Aidan Joseph
Burns, Catherine Susan
Buseck, Brian Sherwood
Bushong, Gloria H
Butcher, Clark Thomas
Butler, Allison M
Butler, Caroline R
Butow, Evan N
Bychkova, Darya E
Byers, Jenna
Byrne, Amanda Elizabeth
Cacciamani, Valentina A
Cadiff, Samantha Elizabeth
Cadigan, Pearl Gerson
Calcara, Morgan Elizabeth
Camelo Bonilla, Kevin Brian
Cammarata, Olivia F
Campanella, Sarah L
Campbell, Devin
Canfield, Neysa P
Cao, Jiawen
Capiral, Ezra James Torres
Cardon, Lucy Claire
Cardone, Natalia
Carlson, Annika
Carlson, Elizabeth Ann
Carlson, Iris Christine
Carlson, Mallory
Carlton, Alexa Clare
Carniol, Katherine G
Carr, Marissa
Carrigan, Grace Ann
Carroll, Kelly Marie
Carus, Joshua
Caruso, Alaina Grace
Casey, Caroline M
Cassidy, Patrick Joseph
Caster, Chesnie M
Cauz, Benjamin
Caywood, Sara Suzanne Kelly
Cefalo, Katherine B
Cerrito, Emily Rachel
Chae, Christin
Chairnoff, Benjamin Ross
Chalifoux, Michaela
Chambers, Dakota C
Chang, Richard J
Chanphouang, Bounome
Chapin, Isaac Goodman
Charette, Elizabeth H
Charles, Nathan Theodore
Chau, Brian Chun Ho
Chen, Veronica
Cherkasov, Alexei
Chi, Muxin
Chiang Moy, Marco Terrance
Chicchi, Claire Elisabeth
Chilewich, Sydney Nicole
Chin, Jasmine
Cho, Jun Hyung
Chouinard, Kyle Samuel
Christopher, Adanech E
Cigliano, Nicole
Cirasuolo, Constantino B
Clark, Kaitlyn Elizabeth
Clark, Meredith
Clary, Landon Alexander
Clavin, Mia S
Clemens, Dylan Patrick
Cloherty, Kyle J
Clough, Danielle M
Coen, William B
Coey, Breanna Clare
Cohen, Catherine Madison
Cohen, Reese Aaryn
Cohen, Sophia Hannah
Cohen, Thomas Benjamin
Cohn, Bari Lynne
Cohn, Joseph L
Cohn, Lindsay Camryn
Cola, Jacy James
Colon, Joseph Carlos
Comstock, Anna Margaret
Concordia, Noah John
Conner, Ryan G
Connolly, Jason Gary
Considine, Sydney Elyse
Contarino, Taylor Marie
Conte, Olivia
Cooper, Megan
Cooper, Samantha Elaine
Coors, Brendan Aquinas
Corlett, Marissa Nicole
Corrente, Gianna Marie
Cortese, Douglas Michael
Cortigiano, Cameron
Council, Ava J
Coupal, Jason Taylor
Covino, Madison Delanie
Cox, Nicole E
Coyle, Oliver M
Cramer, Rachel Anne
Craner, Tobias L
Crooke, Madeline
Cross, Owen James
Crowley, Liam Tadhg
Cunningham, James
Curran, Grace
Curreri, Olivia Catherine
Currier, Samantha Mai
Cutuli, Joseph Collin
Daco, Debra D
Daetwiler, Natalie Choung
Dales, John
D'Angelo, Alessandra M
Danylchuk, Samantha Catherine
Dar, Noor
Darnell, Casey
Darsch, Sophia Lovely
Dascoulias, Natalie
Datz, Lily Catherine
Davey, Katarina F
Davis, Chloe Brooke
Davis, Daniel J
Davis, Kelly Marie
De La Grana, Sofia Rayne
De Oliveira, Gabrielle Nicole
De Paolantonio, Andrew Ernest
De Poortere, Margaret Mary
De Young, Allison Y
Dean, Timothy Ryan
Deangelis, Alex Steven
Deas, Nadia Lynae
Deblasio, Joseph T
Deboer, Grace L
Debrot, Chelsea L
Decina, Kayley A
Decker, Deleha
Dee, Ryan Edward
Degen, Devon Catherine
Degennaro, Lauren Eileen
Delello, Trevor
Delisle, Caroline Brown
Della Pelle, Rachel
Dell'Abate, Lucas Richard
Delorenzo, Olivia Rose
DeMuria, William J
Denaro, Samantha K
Deng Yuan, Jiaxing Natalia
Deng, Fanny
Dengel, Alexander Griffin
Denney, Diana Lynn
Dennis, Wyatt Luke
Denton, Grace
Depasquale, Dante Max
Depietto, Olivia Leigh
Deren, Hannah Mary
DeSantis, Nicholas Keane
Destefano, Jennifer A
Devine, Marjorie Patrice
Dewey, Allison H
Deyo, Alexa Grace
Diaz, Valentina S
Dicesare, Julia Elizabeth
Dietz, Benjamin Kiva
Digiantommaso, Sophia Grace
Dilawri, Rayana Angeli
Dill, Cori Rachael
Dilmaghani, Dara
Dinerman, Samantha Brooke
Dinnhaupt Jr, Andrew Brock
Diserafino, Tessa Maria
Ditolla, Giana
Divestea, Michael Joseph
Djan, Nhari Emila Sebea
Dodds, Henry Jedson
Doe, Olivia Catherine
Dolgin, Sarah Elissa
Donio, Chiara
Donio, Sophia Bella
Doolittle, Madelyn L
D'Orsi, Charlotte Jean
Doule, Grace Michelle
Dowling, Jared C
Dreskin, Mollie Jane
DuFine, Liv Maxine
Dugan, Kelly E
Dunakin, Hanna Samantha
Dunn, Payton Thomas
Dunne, Leah Katherine
Dupree, Samantha J
D'Urbano, Sarah E
Durham, Zoe Harper
Dworken, Marissa Grace
Dykema, Harrison James
Dzenawager, Matthew J
Eads IV, John Trimble
Eckel, Luke Matthew
Economides, Nicholas Lambros
Edelman, Kyle Joseph
Edsell, Jared F
Edwards, Kathleen
Eichler, Benjamin
Elliot, Daisy Rebecca
Elliott, Kathryn H
Emerman, Daniel R
Emole, Uchechukwu Blessing Echeme
Engelhardt-Apple, Isabella
Eschenbrenner, Lauren Rose
Estella, Caroline Marie
Ezeir, Cameron Alexander
Fahmy, Abdelrahman Hazem
Fahmy, Natalie
Fahrer, Casey
Fairfax, Matthew Keoni
Fang, Xuhong
Farrell, Lucy Davern
Farrugia, Gillian Marie
Feith, Jason
Fekete, Emma Grace
Felbin, Sarah R
Feldmann, Alyssa T
Feng, Ningnan
Fentress, Sierra
Fernandez Rosado, Silvino Antonio
Fernandez, Roshan
Ferreira, Camila Neuhaus
Ferrick, Campbell Lane
Fidilio, Rosa
Findlay, William Ginn
Fine, Lindsey Samantha
Fink, Jenna Michelle
Finnerty Jr, John P
Fischer, Amelia L
Fish, Eliot B
Fisher, Dagny C
Fitzpatrick, Madeline G
Fitzpatrick, Meghan Margaret
Fleschman, Mira Freda
Flores Rivera, Camilyn Mariell
Flores, Eric E
Fobes Mora, Jesus G
Focht, Maiya Chappell
Follett, Gillian I
Folts, Emma S
Foote, Linnea Grace
Ford Jr, Brian D
Forschino, Julia L
Fournell, Natalie Nicole
Fowler, Mackenzie
Francesconi, Carly A
Frank, Abigail R
Frank, Ethan Gabriel
Franklin, Hunter Shon
Frazier, Anastasia Marie
Freeman, Christopher Robert
French, Cameron Scott
French, Daniella S
Freund, Max Efrom
Friebely, Jessica
Friedman, Peri I
Friedrich, Isabella Marie
Froding, Bridget Leigh
Frost, Kayla R
Fuller, Asha
Funes, Nicole
Furnari, Michael Paolo
Gadamowitz, John
Gaffney Jr, Hugh P
Galati IV, Philip Joseph
Gambaro, Carson A
Gamza, Emily
Garber, Stone Matthew
Garcia, Ethan M
Garfield, Jessica Claire
Garian, Alexandra
Garland, Isabelle Anne
Garmoe, Sydney Rose
Garten, Michele J
Garufi, Angelo Matteo
Gay, Grace N
Gbabiri, Christiane
Gelato, Christina
Gelb, Mia Lauren
Gelfand, Samuel Harris
Gelsi, Maya Lynne
Genovese, Jonathan M
Genovese, Leana Marie
Genus, Anna
Gerard, Jaden
Gerardi, Talia
Gershenson, Griffin J
Gershowitz, Julia
Getzug, Noa Frances
Ghantous, Olivia Mariam
Gibbs, Molly Marie
Gibson, Lukas Jakob
Gideon, Rachel Alexandra
Gilchrist, Julieanne Carlynn
Gillen, Alyssa
Ginder, Hayden
Girard III, Joseph
Glasser, Zoe E
Glaubitz, Mackenzie
Glenn, Patricia S
Glicksman, Morgan R
Glowacki, Justin
Glynn-Habron, Gabriel R
Gold, Emily
Gold, Sydney Eden
Goldberg, Alexandra
Goldberg, Emily Jaye
Goldberg, Rachel Danielle
Goldberg, Sarah R
Goldblatt, Elizabeth Muchin
Golden, Joshua M
Goldish, Elizabeth Parker
Goldman, Dylan L
Goldman, Zachary Harris
Golub, Anastasia
Gomprecht, Sophia Jane
Gonzalez, Jamie R
Goodstadt, Katie Rose
Goore, Madeline T
Goose, Geoffrey William
Goralski, Kathryn Elizabeth
Gordon, Annabelle Eleanor
Gordon, Jack Harrison
Gordon, Tara Mary
Gork, Olivia
Gosset, Gisele
Gould, Rose
Gourwitz, Jacob Ellington
Graf, Hannah
Gralewski, Tucker Leo
Grant, Jay Brian
Gray, Kara Allen
Grebler, Madison P
Green, Erin Cooper
Green, Sarah
Greenberg, Zoey Jane
Greene, Jordan A
Greenhouse, Dylan Alexander
Grenz, Morgan Ashlee
Griffin, Carter Aidan
Griffin, Liam McAdam
Grinnell, Sarah Whitney
Gronauer, Marcus Aaron
Gross, Gillon
Grube, Benjamin Donald
Guacci, Marina Nicole
Guido, Grace Giovanna
Gulbrandsen, Campbell C
Gullingsrud, Phoebe E
Gunn, Patrick
Guo, Weipeng
Guo, Yue
Gurkan, Mina Ferren
Gutierrez, Nicholas Tyler
Guzda, Gabrielle Elizabeth
Guzman, Shantel
Hackett, Annelise
Hageman, Kathryn Elizabeth
Hager, Thomas
Hall, Aaron
Halligan, Aidan Samuel
Halperin, Jacob Ian
Halperin, Samantha Anne
Hamer, Alexander T
Hanan, Connor Daniel
Hananel, Owen David
Harasimowicz, Samuel John
Hardin, Dylan Alexander
Harken, Gretchen Lydia
Harris, Claire Anne
Hart, Elizabeth A
Hashemi, George Beauchamp
Hassan, Matthew R
Hatchett, Daniel O
Hathaway, Elizabeth D
Haugen, Catherine Mae
Hauptman, Kristin Rae
Haushalter, Elle Elizabeth
Hausler, Katherine R
Hayashi, Rachel Leila
Hayden, Colin Patrick Hart
He, Jialing
He, Yuke
Hearl, Jacob T
Hechler, Peter Lynn
Hegarty, Michael
Hegde, Anya Uday
Heiselman, Amaya Mei
Heldt, Katharine Eva
Helmer, Ava Louise Finkle
Henderson, Kyle Joseph
Hentschel, William R
Herlihy, Kiley Elizabeth
Herman, Jesse Grey
Hermann, Ryan Harry
Herndon, Ayana
Herrera, Cristina Marie
Hersh, Casey Ella
Hicks, Margaret Elizabeth
Hicks, Phoebe
Hid Arida Suarez, Vincenzo
Higaki, Dianna K
Hill, Anna E
Hill, Katie Abigail
Hillman, Adam
Hines, Taylor
Hinz, Mia E
Hippensteel, Christopher John
Hirsch, Brooke Lynn
Hirsch, Kate Lauren
Hober, Thomas John
Hobika, Madeline S
Hochberg, Barbara Yael
Hochberg, Louise Rose
Hodge, Alexandra
Hogan, Tanner Jacob
Hollander, Samuel Parker
Holman, Ainsley Elizabeth
Holmberg, Emily K
Holt, Porter
Holzer, Jackson P
Hong, Isabelle
Hoppenstein, Bradley E
Hopper, Karly Jo
Hornstein, Anne Grace
Horwitz, Alyssa Caroline
Hou, Mingjun
Hou, Yanxi
Hu, Jiaxin
Hu, Xiaoman
Hua, Ding
Huang, Jialun
Huang, Jiaqi
Huang, Taylor
Huang, Xinyue
Huang, Yixin
Hudnell, Bryan Anthony
Hudson, Catherine Constance
Humiston, Moriah Ann
Hunt, Aine M
Hunt, Madeline
Hurley, Casey
Hurt-Bey, Nikkia Asia
Hurwitz, Lauren B
Hutson, Faith J
Huynh, Thiem N
Hyman, Jasmine Nicole
Iannella, Lilli Ann
Inagawa, Yui S
Infante, Eden Julia
Ipsaro, Hayley
Irland, Molly G
Iroanya, Celeste
Isgrig, Miles Andrew
Izurieta, Melanie J
Jackson, Jewel Michelle
Jacovitz, Samuel Williams
Janese, Ava Elizabeth
Jarjour, Elias Francis
Jenkins, Colin E
Jensen, Matthew R
Jermyn, Ryan P
Jiao, Yang
Jin, Xiaoyu
Johnson, Carlin
Johnson, Colleen M
Johnson, Madeline R
Johnston, Caitlin M
Jones, Joshua
Jones, Krystal B
Jones, Michael N
Juliano, Mia Lauren
Kahn, Alexa Nicole
Kaiser, Sophie Abigail
Kalinowski, Timothy J
Kamin, Grace
Kang, Priscilla
Kanter, Rachel Sophie
Kaplan, Brett Zoe
Kaplan, Trent D
Kapoor, Khyal
Karlin, Alexis
Karp, Emily
Kato, Brooke Nicole
Katsoff, Ethan
Katzman, Hannah Jane
Katzman, Samuel David
Kauma, Elizabeth Joan
Kavakeb, Jolie Miriam
Kavanagh, Kathleen M
Keevins, Marykate Dinara
Kelleher, Maggie Ruth
Keller, Juliette Angele
Kelley, Alexandra
Kelley, Iseabail Alice
Kelly, Julia Q
Kepnes, Gabrielle C
Kersten, Cecelia Hope
Kho, Charlotte
Khoshnoud, Kiana Claire
Kienzle, Olivia Anne
Kilgallon, Annastacia Marie
Killean, Campbell James
Kim, Alexander Kennedy
Kim, April
Kim, Christine Yerin
Kim, Claudia S
Kim, Rachel
King, Alexandra N
King, Dylan R
Kingsley, Madison Ann
Kiper, Madison Helene
Kirchner, Laura Rita
Kirkpatrick, Gus Thomas
Kirkpatrick, Shannon Elizabeth
Kirschner, Sara
Kitchell, Thomas
Kjellberg, Katherine Elizabeth
Klaff, Catherine A
Knigin, Aaron Mitchell
Koenigsberg, Eliana Rae
Koestler, Sarah
Kohl, Christina Elizabeth
Kohs, Sophia Gabrielle
Koller, Lillian M
Kooker, Livia A
Kornberg, Isabella J
Kraker, Micaela H
Kramer, Madeleine R
Kramp, Kathryn Marian
Kraynak, Amanda Claire
Kreinces, Jamie David
Kreppel, Carly
Kretschmer, Bailey Rose
Kroin, Alexa R
Kronberg, Jacob Cohen
Kull, Charlotte Mary
Kuruvilla, Laura Graham
Kushner, Hannah L
Kwen, Myounggu
Kylander, Matthew Mccandless
Ladwig, Taylor Lauren
LaFiandra, Nicole Paige
Laird, Ashley Natasha
Lamb, Austin Carter
Lambiaso, Emma Faith
Lane, Kathleen J
Langlois, Brianna Lee
Lank, Tessa Alexandra
Lariviere, Mateo Real Rodriguez
Larkin, Michael Joseph
Lattuca, Douglas S
Lauck, Christopher J
Lauria, Joseph C
Lavancha, Walker James
Lavoie, Camille M
Lawrence, Julia H
Lawrence, Molly Powers
Lazarus, Violet
Lazinsk, Jordan Samuel
Le, Linh Bui Khanh
Leach, Ryan Carl
Leavy, Jaynie Kaye
Lebowitz, Samuel Avi
Lechtman, Zoe Sarah
Lee, Jasmine N
Lee, Joshua Joo Young
Lee, Sangwoo
Lee, Sarah
Leepson, Daisy Grace
Legaard, Erica D
Lenane, Jacqueline Rose
Leon, Isabella A
Leonard, Karoline Alice
Lepko, Gloria E
Lerrick, Eleanor Rose
Lesser, Eli Ferrel
Lesserson, Jeremy Tyler
Levatino, Hailey
Leveille, Jillian Paige
Leveroni, Dylan Thomas
Levey, Justin
Levin, Anne Alyse
Levin, Jennifer A
Levine, Paul J
Levy, Jason
Levy, Jordana P
Lewis, Emily Monica
Lewis, Meredith Rose
Leyne, Michael James
Li, Teng
Li, Xinning
Liberman, Brianna Nicole
Lieberman, Olivia
Liepper, Josh Maxwell
Lin, Benjamin
Lin, Kaizhao
Lin, Wanling
Lincoln, Makena Keala
Lindell, Samantha G
Lindert, Hattie K
Lindroth, Layne E
Linehan, Patrick Joseph
Liu, Chenhui
Liu, Xin
Liu, Yuqi
Livshin, Joseph Michael
Lobel, Alexandra
Lobsenz, Olivia Dutton
Lockitt, Philip William
Loftus, Daniel Patrick
Loper, Brittney
Lopez, Enrique Elias
Loughran, Kyle Francis
Lourie, Noah
Lowy, Jack K
Lowy, Noah Ojeda
Lu, Yongchen
Luangaphay, Vanessa Lisa
Lunger, Julia
Luo, Dehao
Luo, Yawen
Lupton, Alejandra M
Luttrell, Nicklaus Adrian
Lynch, Regan
Lynch, Sophie
Lyon, Daniel Adric
Lyons, Emily Isabel
Lyons, Jack William
Ma, Binhao
Mackin, Madison F
Maddren, Luke
Madhok, Luka Arsham
Madover, Isabel Abby
Madyun, Inaya Jala
Magilligan, Matthew J
Magpantay, Krisnina E
Mahler, Rachel Jenelle
Malanoski, Alex Richard
Mallea, Daniel L
Mallon, Margaret Jane
Maloney, Amanda Taylor
Manczko, Madison Claire
Manenti, Chloe Elizabeth
Manganese, Angelina Rose
Maniece, Mykenna A
Maniscalco, Olivia Josephine
Manjunath, Shivani Reddy
Marcinkowski II, Matthew Joseph
Mariano, Casey N
Markham, John Wesley
Marks, Avery Sophia
Martin, Chloe
Martin, Hanna E
Martin, Taylor E
Martinez, Emanuel
Martini, Sophia Rose
Mastorides, Jessica Marie
Mastropieri, Marisa
Matejka, Maxwell John Rogers
Matsui, Laurel
Mauro, Sabrina Rose
Mavis, Lilly Merrick
Max, Justin Emanuel
Maxey, Zoe Keene
May, Jaron Pierce
Mayk, Erin Elizabeth
Mazzucchelli, Tess Enright
McArdle, Jenna L
Mccaffery, Adam
Mccloskey, Meghan Weaver
Mccloskey, Shane Joseph
McClymonds, Nathan R
McConnell, Grace A
Mccormick, Grace Elizabeth
Mcdonald, Austen Michael
McElrath, Amber
McEvoy, Julia
Mcfarlane, Murphy
McGrain, Sydney
Mcgraw, Jacob
McHugh, Victoria B
Mcilhargey, Morgaine Elena Azama
Mckean, Ashley Brooke
McKenna, Anthony J
Mckeon Jr, Christopher Michael
McKeon, Cameron B
Mckeon, Wallace Kirby
McMullen, Thomas S
Mcneill, Emily Catherine
Meara, Isabel Naomi
Meehan, Tessa C
Mehling, Joshua Devin
Mehta, Jahnavi Mangilal
Meier, Ian Thomas
Meir, Samantha Nicole
Melito, Tyler Philip
Meller, Rachel Corinne
Mendez, Jocelyn Siara
Meng, Fan Qian
Menk, Lily A
Menon, Arjun
Mermelstein, Ethan Jack
Messina, Samantha
Metzger, Elizabeth
Meyers, Josh
Meyerson, Zachary M
Michell, Brooke
Michelson, Emma Aran
Micho, Ryan Joseph
Middleton, Cedric James
Miele, Alexandra Lee
Milber, Juliette S
Miller, Brittany
Miller, Katherine Madison
Miller, Lauren
Miller, Rena
Miller, Samantha R
Miller-Trabold, Gabriel Michael
Minion, Zachary Seth
Minutillo, Katelyn Jean
Miraglia, India Rowena
Miranda, Jessica Reis
Mitchell, Ethan J
Mitchell, Kimberly
Mlynarczyk, Zuzanna
Modin, Carolyn Ruth
Moeller, Olivia R
Moen, Olivia Michelle
Moffitt, Kristin Hope
Mohan, Ruchir
Mohindra, Ishaan Dev
Mohr, Preston
Molesworth, Soleil L
Molina, Kiara D
Molinari, Lara S
Monahan, Matthew James
Moon, Eric William
Moore, Brigid Eileen
Moore, Sarina
Morales, Adrianne Marie
Moran, Caitriona L
Morell, Kristiana A
Morris, Amanda Nicole
Morris, Jacob
Morrison, Erica
Moskowitz, Jules
Moskowitz, Sloane I
Mosso, Erika
Muldoon, Connor M
Muldoon, Hannah Rosalie
Mullan, Lily Rose
Mulligan, Ella June
Munoz Campos, Anne Marnie
Murhamer, Mona Nicole
Murphy, Mackenzie P
Murray, Kathleen Barbara
Mussalli, Gabrielle Louise
Mussman, Samantha N
Myers, Amber
Myers, Athena Hastings
Nadelman, Jesse
Nakamura, Amy Beth Kimiko
Naqi, Bushra
Narasimhan, Rohit S
Nardino, Casey Elizabeth
Nash, Mark
Nayrouz, Yasmin
Ndiaye, Mame F
Neidell, Sydney A
Nelson, Reece J
Nelson, Ryan Thomas
Newirth, Isabella Marie
Nice, Caleb F
Nimkoff, Ilana Joy
Noah, Justin
Nolan, Gannon Cooper
Nolan, Timothy
Nordberg, Ella Caroline Patrice
Nunley, Sarah
Nusbaum, Jasper North
Nydam, Daphne Lang
O Neill, Tyler M
O'Brien, Colleen Mairead
O'Brien, Erin M
O'Brien, Henry W
O'Brien, Maeve Feerick
O'Donnell, Amanda Grace
O'Donnell, James P
Offerman, Oscar Paul
Ogunnowo, David
Ohlin, Samantha Belle
Oleksinski, Benjamin Michael
Oliverio, Laura Nicole
Olson, Zachary Isaac
O'Malley, Nora Mary
O'Melvin, Eva C
Onderdonk, Max Lee
Oo, Yun
Oppenheim, Samuel
Orellana Gallardo, Domenica Paola
Orlando, Jeanette Pauline
Osagie, Eronmwon Golden
O'Shea, William M
Osso, Lena Marie
Ostrowski, Michael Edward
O'Sullivan, Daniel Q
O'Toole, Hannah M
Ottley, Heide
Outcalt, Sierra
Ouyang, Jiajun
Paden, Matthew Grant
Pagano, Giuseppe Franco
Palmer, Kelly Jean
Pampeyan, James
Panzer, Sydney C
Papin, Kiana
Paroff, Brian Max
Patel, Jaya H
Patrone, Beckler Adams
Patterson, Bridgit
Patton, Matthew A
Paule, Amanda Marie
Paz, Ella L
Pearce, Mackenzie R
Peck, Liliana M
Peiffer, Ryan D
Peluso, Alissa
Peng, Alexis
Peng, Jiaman
Penman, Camille Elizabeth
Penmetsa, Neha
Penmetsa, Sudeep
Pepper, Alexandra Sadie
Perez, Jeronimo
Perik, John Beretta
Perrier, Christina-Hannie S
Perrins, Richard Christopher Dunston
Perry, Megan
Perry, Mia R
Peterkins, Julia Kay
Pfeifer, Mya Noelle
Philogene, Haniyah S
Photos, Bond D
Pi, Aorui
Pianiri, Valentina M
Pickering, Sarah Elizabeth
Pierce, Rachel Elizabeth
Pierce, Spencer William Lee
Pierre, Jordan
Pignatello, Connor
Pineda, Bianca M
Pines, Liv Annabelle
Pippin, Elliot J
Piwko, Margaret Elizabeth
Plack, Caleigh Elaine
Plante, Chandler Diane
Platt, Allison S
Plohoros, Veronica Jane
Podbere, Callie H
Podd, Rebecca Marie
Pohancsek, Rylee D
Poirier, Julianna Rae
Polidora, Alexandra
Politz, Anna C
Pollack, Sydney Mayfield
Porcek, Gianna Nicole
Porter, Vivian E
Pow, Maya Alexandra
Powell, Chloe Elizabeth
Powers, Alexa Brynn
Powers, Matthew Charles
Presson, Abigail V
Prudente, Gianna Nicole
Psarros, Melina Anastasia
Puccio, Joseph
Pulgar, Tessa Karina
Pullano, Nicole Danielle
Pyskadlo, Lexah Rose
Qiu, Boming
Quarles, Eleanor S
Queripel, Christopher P
Quinn, Katherine Jarvis
Quinones, Esteban D
Radis, Victoria Jane
Ramirez Uneme, Vanessa
Ramza, John J
Rapach, Brielle Susan
Rath, Louise C
Redfield III, Daniel Wood
Rednik, Sydney A
Reed, Braden Thomas
Reese, Evan J
Reiche, Kellen John
Resnick, Hannah Grace
Reynolds, Kate Ann
Rice, Catherine Connor
Richards, Rachel
Richter, Sydney
Richter, Zachary Louis
Rivera, Ella R
Rivera, Skyler D
Riviere, Malia C
Robertson, Haley Ann
Robinson, Lacey Irene
Robinson, Zachary Ross
Rode, Dylan M
Rodrigues, Jace S
Rodriguez Mazour, Tommy Vladi
Rodriguez, Jillian
Rodriguez, Mia K
Rodriguez, Nina
Roldan-Vasco, Mateo
Romano, Thomas Vincent
Romero, Skylar
Rood, Brett Matthias
Root, Meghan
Rose, Timothy David
Rosegarten, Olivia Jane
Rosen, Derek Isaac
Rosenberg, Matthew Evan
Rosenthal, Rachael Brooke
Rosenthal, Sydney E
Ross, Anna
Roth, Eli Joseph
Rothschild, Aaron M
Roux, Karly Ann
Rozman, Alexandra Simone
Rubin, Alec J
Rubin, Jack Harrison
Rubin, Jessica Lynn
Ruggiero, Anthony Paul
Russo, Thomas William
Ruszkiewicz, Angel M
Ryan, Bethanie M
Ryan, Brendan Alexander
Ryan, Katherine Marie
Ryu, Isaac Hae Song
Saad, Emily S
Saccomano, Joseph A
Sadarangani, Ritu
Safaya, Alexander Labroo
Sailer, Francesca Anne
Sala, Jake Anthony
Saley, Alexa Carol
Sammeth, Mackenzie Anne
Santana, April
Sassoon, Julia H
Scatchard, Alexandra W
Schade, Brian Jonah
Schafer, Zoe Anna
Schapero, Samantha
Schappell, Samuel James
Scherger, Allison P
Schickler, Melanie Brooke
Schiff, Sophie Jacqueline
Schildhaus, Avery
Schlosser, Sophie Yetta
Schmidt, Jenna Rose
Schmidt, Quinn A
Schneider, Joshua Reuben
Schneider, Samuel B
Schroeder, Sydney Maxine
Schroeder, Talley Jane
Schwartz, Jason L
Schwartz, Nell
Schwenderman, Julia A
Scoville, Katherine Jennifer
Seah, Lynn Yan Lin
Sek, Sarah Megan
Selesi, Zoe Oluwatoniloba
Sennett, Tucker Lawrence
Sessa, Michael
Severance-Sulimma, Emma Louise
Shanahan, Patrick Orton
Shao, Shengxue
Shapiro, Andie B
Shapiro, Ashley L
Shaw, Nia L
Shaw, Thomas Joseph
Shay, Nolan Christopher
Shea, Charlotte Rosalind
Shea, William Benjamin
Shealy, Camran L
Shechter, Jenna A
Shechtman, Jessica Marlee
Sheedy, Cara Anne
Sheehan, Maeve Aine
Sheiner, Sophia Rose
Shen, Xiaofan
Sherer, Alana R
Sherman, Sarina Lyn
Shetty, Gaurav
Shevlin, Jane
Shive, Lily Margaret
Short, Julia Christina
Shreve, Amina Kaye
Shuldman, Avery Hayley
Shulman, Benjamin Michael
Shults, Thomas Glen
Siddiqui, Aliah
Side, Deniz
Sidhu, Punya
Siegal, Jillian R
Siegel, Noa
Sienko, Owen A
Sigworth, Matthew Tate
Silva, Connor M
Silverman, Dorothy Lauren
Silverstein, Kathleen Marie
Silverstein, Lauren
Simmons, Talia Clare
Simmons, Thomas Clayton
Simon, Camryn
Simon, Isabella Rose
Simon, Megan A
Simone, Francesco
Siskind, Eden
Skaggs, Rebecca E
Skeith, Paisley A
Sklar, Stephen Alan
Sklarin, Joshua Neil
Sklitsis, Nicole
Skolnick, Jake William
Slagter, Alexandra Elizabeth
Slavin, Sarah Rachael
Slovinsky, Danielle Brooke
Small, Griffin Duffy
Smiles, Lindsey
Smith, Amanda M
Smith, Casey Payton
Smith, Catherine Grace
Smith, Charlotte Wise
Smith, Connor Graham
Smith, Mallory Baird
Smith, Nicole Elise
Smith, Peyton Revere
Smith, Phoebe A
Smith, Sydney E
Sobeski, Laura Kelly
Soderlund, Sophia Jane
Sokoloski, Nicholas James
Sokolov, Ashley Nicole Jennifer
Solomon, Marissa
Solomons, Jamie Michelle
Sonkin, Natalie Rose
Spector, Benjamin Eli
Spector, Carolyn
Spector, Corey A
Spellacy, Peyton A
Sperling, Adam J
Spiezia, Lauren Elizabeth
Spina, Noah Vincent
Spiro, Alana Jade
Srivastava, Rhea
St.Laurent, Zachery M
Stackhouse, Alexis Jai
Staples, Mia
Stapleton, Jill Elizabeth
Stathakis, Kathryn Elizabeth
Steinberg, William Kyle
Steinberger, Emily R
Steiner, Taylor Olivia
Stelk, Madeline Barbara
Stephenson, Brooke E
Stephenson, Duncan
Sterling, Danielle Ryann
Stern, Chelsea B
Stern, Jessica
Stetter, Matthew David
Stevenson, Caroline Jean
Stirpe, Luke Dominick
Stokker, Mallory
Stolnitz, Erika
Stone, Arlo A
Storie, Mariah Sandra
Storms, Eric
Stover, Lucy Clare
Stratton, Eden R
Streett Apicella, Ruby Lou
Strol, Lucinda Clare
Strong, Cole R
Stuart, David M
Stubbmann, Summer
Suh, Yuri
Suhr, Jennifer Anne
Sulc, Sierra
Sullivan, Gabrielle Marie
Sun, Bing
Sun, Kaiyi
Surgent, Kyra Louise
Swart, Skylar A
Swartz, Aaron Louis
Swientek, Annika Grace
Sylla, Aminata
Tabakin, Chloe Simone
Tabs, Isabel Rose
Tacher, Sydney Gabrielle
Taliento, Alexis
Talley, Regan Paige
Tamuzza, Zachary P
Tan, Xingyu
Tang, Peiyuan
Tanner, Danielle
Tao, Lucy
Tartaglione, Anthony Joseph
Taszarek, Elizabeth F
Taylor, Samantha
Terr, Courtney Rachel
Terzaghi, Anna
Testani, Nicholas Thomas
Tetteh, Christin-Delaine G
Teuscher, Susan
Thasiah, Eden E
Thomas, Kristin Stephanie
Thomas, Siron Mederick
Thompson, Alyssa Jolie
Thompson, Daijha
Thompson, Olivia Ruth
Thompson, Reid
Thompson, Tyler N
Tieman, Rachel Emma
Tilmont, Peter Andrew
Tinsley, Darlene A
Tissue, Casey Lane
Tomaiuolo, Max Johnmattio
Toporoff-Richman, Logan Michelle
Torres, Penelope S
Tow, Daniel Adam
Towns, Owen Michael
Townsend, Megan Lynne
Trackim, Talia Nikole
Travella, Ava C
Traver, Athena K
Trejo, Regina
Trice, Allyson J
Triolo, Joseph D
Truong, Michelle W
Tsunoda, Remi
Tubman, Lily Margaret
Tucker, Morgan C
Tumino, Olivia Marie
Turboff, Cameron S
Turcios, Valerie A
Turner, Timothy A
Tyrrell, Meaghan Dorothy
Uddin, Erina S
Ung, Mukging
Ung, Mukling
Unsworth, Ian Richard
Urban, Ashley Elizabeth
Uriarte, Luke
Uzumeri, Alara Fethiye
Valente, Gianna
Valentine, Owen Nicholas
Van Dusen, Megan
Vanbeuren, Elizabeth R
Vanvranken, Janna L
Vardi, Sophie K
Varvis, Michaela Rene
Vasquez, Anthony Salvador
Vassolas, Larissa R
Vasudevan, Anish S
Vaughan, Haley
Vega, Abigail F
Velez, Phoebe Juliet
Velli, Jackson Henry
Vigliotti, Aidan
Vincent, Lauryn
Vinh, Christopher Quy-Nam
Virnelli, Julia Rocca
Vo, Leigh Mai
Voler, Kathryn Vera
Volkomer, Catherine Carroll
Vuono, Alexandra Anne
Wachtfogel, Ashley Morgan
Wagner, Julia Paige
Wagner, Julia Rose
Walker, Aeron J
Walsh, Michaela Erin
Walton, Gabriel Charles
Wan, Linxin
Wang, Mengyao
Wang, Runfeng
Wang, Tao
Wang, Yihan
Wang, You
Ward, Melissa Rae
Ward-Diorio, Slater Liborio
Warden, Karley Ann
Warren, Samuel Avery
Wasserberger, Dylan Blake
Waters, Anna Katherine
Watters, Emma J
Way, Kevin George
Weber, Abigail Joanne
Webster, Jenna Elizabeth
Wee, Sonia Hui Ting
Weeks, Olivia C
Wehrle, Daniel Edward
Weibel, Alexandra Kendle
Weinberg, Joshua Todd
Weinstein, Cole
Weisman, Max A
Weiss, Abigail Kacie
Weiss, Alexander Mark
Weiss, Allison J
Weiss, Micaela Rose
Weiss, Noah A
Welbaum, Whitney Flora
Welker, Martha Grace
Wenig, Charlotte Gillian
Wenskoski, Ashley Rose
Werbinski, Camryn M
West, Marisa
Westwater, Cecelia Jane
Westwood, Peyton Anabelle
Wheel, Ethan
Whipple, Quincy E
White, John G
Whitney, Vivian
Wieland, Megan J
Wight, Reid Thomas
Wildermuth, Isabella Elaine
Wilk, Brett Michael
Wilkes III, Frederick Brennisen
Williams, Adianna Nicole
Wilson, Elizabeth Gray
Wilson, Whitney Elizabeth
Winters, Sophie F
Wirth, Jenna
Wolk, Samantha Ryan
Womer, Hailey E
Wong, Britney
Wong, Myra Christela
Wood, Daniel James
Woods, Nacy Kathleen
Woods, Paris
Wright, Brandon
Wrigley, Matthew
Wu, Bingjie
Wu, Xiaoyu
Wu, Yidi
Xiao, Shuyun
Xiong, Meiling
Xu, Haozhe
Yablon, Colby Danielle
Yang, Ran
Yi, Jana Sungeun
Yoo, Hyejun
Yousem, Jacob Williams
Yuan, Yutong
Yusaf, Shaoli
Zahedi, Leila Grace
Zaintz, Samantha Blair
Zainyeh, Isabella
Zanfardino, Jamie L
Zeeve, Charles Scott
Zegers, Izabella
Zeidman, Jake Maxwell
Zelaya, Nicolas Morgan
Zenna, Jolie M
Zetlin, Lev D
Zgodny, Sydney R
Zhang, Han
Zhang, Jingyue
Zhang, Jonathan
Zhang, Liwen
Zhang, Shuchen
Zhang, Xizhe
Zhao, Wanru
Zheng, Winnie
Zhong, Siyu
Zhou, Chenlu
Zhou, Yanglongshuang
Zhou, Yi
Zhu, Yani
Zimbron, Maria Jose
Zoller, Claire Louise
Zumbolo, Matthew M
Zuzenak, Aidan Ross
Zysk, Zachary
New partnership supports newsroom diversity through paid editorial internship at Forbes
A partnership between the Newhouse School and Forbes has led to the establishment of a new internship for students in the magazine, news and digital journalism (MND) program.
The paid editorial internship is open to both undergraduate and graduate students, with preference given to students from underrepresented groups. The student will spend 10-12 weeks this summer as a remote intern with the Forbes newsroom.
"We look forward to welcoming a talented Newhouse student this summer, and we are excited to enter into this partnership with the Newhouse School," says Ali Jackson-Jolley, assistant managing editor at Forbes. "Newsrooms are best when they reflect different backgrounds, voices and points of views. It is only by supporting journalists of color that we can take on the lack of diversity in the media—and more specifically, in the newsroom—that leaves us vulnerable to making decisions while only ever hearing one perspective."
The Newhouse student will work in the editorial department as part of a class of prestigious Forbes interns. The interns are assigned to a beat—such as business, education, lifestyle or money—and work closely with an editor throughout the summer, gaining support and mentorship. Interns also take part in weekly presentations from Forbes leadership.
"This collaboration with Forbes aligns with our goal of creating new opportunities for our students while at the same time elevating diversity among media outlets," says Newhouse dean Mark J. Lodato. "We hope others will follow."
Job responsibilities may include pitching, reporting and writing stories for Forbes.com; conducting research related to rankings lists; creating photo galleries and infographics; fact-checking; managing social media campaigns and social engagement strategies; researching emerging trends and prospective contributors; attending industry events; and collaborating with Forbes staffers on special projects.
Eligible students must be U.S. citizens or permanent residents and available to work in New York City from June to August. The ideal candidate will have an interest in business and entrepreneurship and an understanding of basic financial terms and figures, plus experience with campus publications or previous internships in journalism.
Interested students are invited to attend a Zoom presentation with Jackson-Jolley today at 2 p.m. EST.
To apply, students should submit a resume, three published clips and a cover letter detailing their interest in Forbes, what they can bring to the Forbes newsroom and how their identity/identities have informed their consumption of media and their work as a content creator and journalist.
Students who plan to apply should notify Jessica Del Fuoco at jtarrats@syr.edu by Jan. 28. A Google Drive link will be provided for each applicant to upload application materials, which should be submitted to MND chair Melissa Chessher by Feb. 1 at 4:30 p.m.
MND faculty will review applications and forward three names to Forbes. Virtual interviews may be conducted with the finalists.
Forbes will announce the final selection Feb. 10.
---
WAER will transition to the Newhouse School this summer
Syracuse radio station WAER will become part of Syracuse University's S.I. Newhouse School of Public Communications, effective July 1. The announcement was made today by Newhouse dean Mark J. Lodato, WAER director and general manager Joe Lee and Kristian Klinger, associate vice president of Auxiliary Services.
"Bringing WAER into the fold with the Newhouse School will allow for significant growth of opportunities for Syracuse University students, both inside Newhouse and across campus," Lodato says. "The station has a rich history of success, and it's one we intend to foster."
The station will benefit from more resources and support from the school, while maintaining its independence as a self-contained unit that meshes with the Newhouse mission. School and station leadership will collaborate to expand student opportunities in the areas of news, programming and promotion—all of which align with Newhouse curricula.
"For years WAER has served as a central training ground for Newhouse students interested in developing skills as journalists and broadcasters," Lee says. "Merging with Newhouse will strengthen content creation and distribution for an enhanced student experience. It is a compelling move on multiple levels."
WAER serves the greater Syracuse area with NPR and local news, eclectic music and SU sports. The station has long been the training ground of choice for aspiring broadcasters from the Newhouse School.
As many as 50 students can be found in the WAER newsroom each semester, covering stories and issues important to Central New York. The sports staff is entirely made up of students, who fill prominent play-by-play positions and also learn studio hosting, engineering and audio production. Lodato says the sports operation will remain independent, "and we'll be close by to help."
The move will also help strengthen WAER's ties to the academic mission of the University, according to Klinger. "The Newhouse School and WAER already share a rich tradition of broadcast excellence and count many internationally-recognized broadcasters and on-air personalities among their alumni. This integration will build on that existing informal relationship and create a pipeline for student-produced content."
Founded at Syracuse University in 1947, the station has historical ties with the Newhouse School, and was once housed inside the Newhouse complex. Countless Newhouse alumni got their start in the industry through positions at WAER, including well-known broadcasters Lakshmi Singh '94, Beth Mowins G'90, Mike Tirico '88 and Bob Costas '74.
WAER will continue to be housed in its current location at 795 Ostrom Ave. The station's 12 professional staff members will become part of the Newhouse staff.
Newhouse Insider: Essential Apps for Grad Students
As a Newhouse grad student, my phone and laptop are always within reach and I rely on them for almost everything from entertainment to completing coursework. Along the way, I've discovered a few apps that come in handy and really help make life easier, especially when I'm busy during the semester. Here are a few of my favorites that are getting me through. The best part: they're all free to use, though most also have paid options with more advanced features.
Organization: Todoist
I found Todoist soon after I moved to Syracuse last fall, and it quickly became my favorite organizational app. It puts everything all in one place: meeting reminders, due dates and notes that can be organized by topic (work and school, for example), among other features. The interface can seem overwhelming at first, but it is intuitive and feels effortless to use once you integrate your email and see your information displayed clearly within the app. Some folks may prefer using a physical planner to manage their responsibilities, but having everything synced and viewable between my phone, laptop and smartwatch works best for me.
Fitness: Down Dog Yoga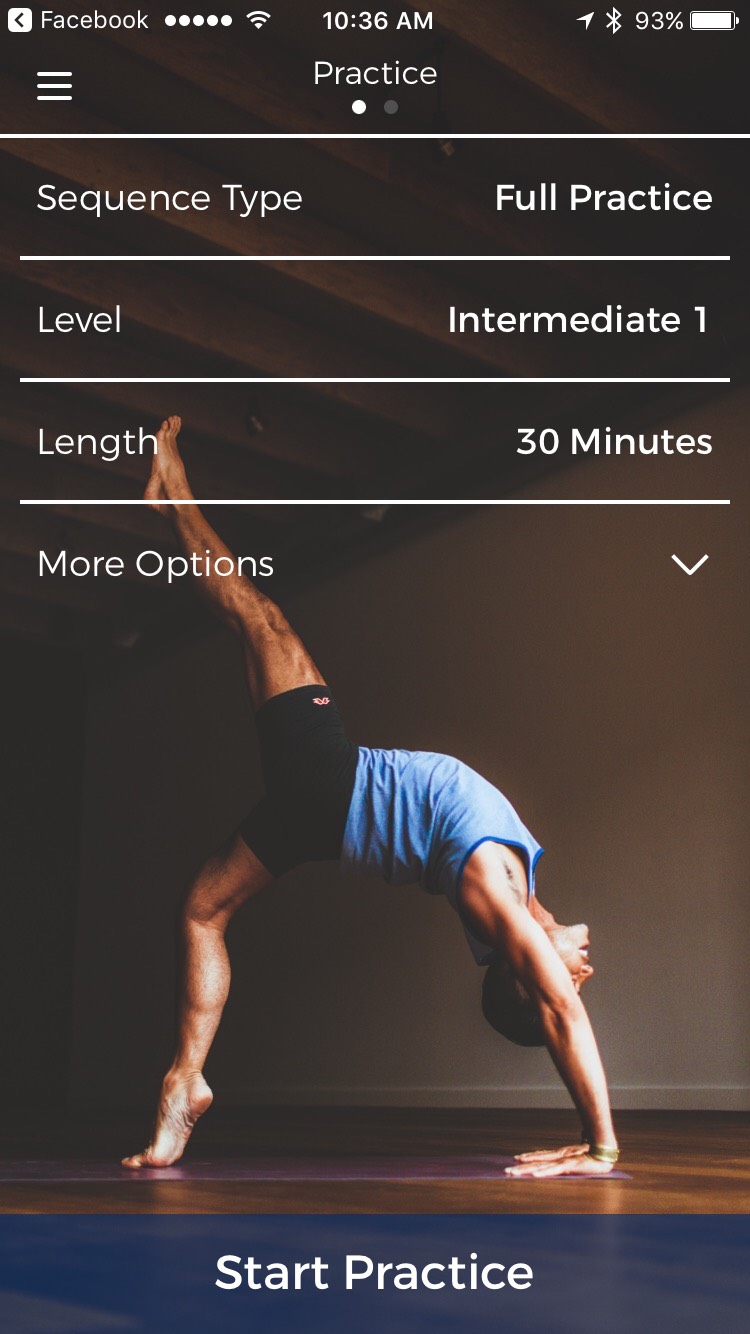 Since I've been spending so much time at home during the pandemic, I've made it a priority to take breaks and move my body more. One way of doing so that I've discovered is practicing yoga. There are a ton of free yoga videos on YouTube, but I found an app called Down Dog that I love. Down Dog normally has an annual fee, but due to the pandemic the developers have made the app free until at least July if you sign up with a .edu email address. Down Dog has other apps for HIIT and barre workouts that are also free to use, but I've been loving the Yoga app because it has tons of customization options for choosing music and your level of experience/desired difficulty. It also generates a new movement sequence every time you use it, so you're never doing the same workout twice. As a total yoga novice, this app makes me look forward to practicing.
Cooking: NYT Cooking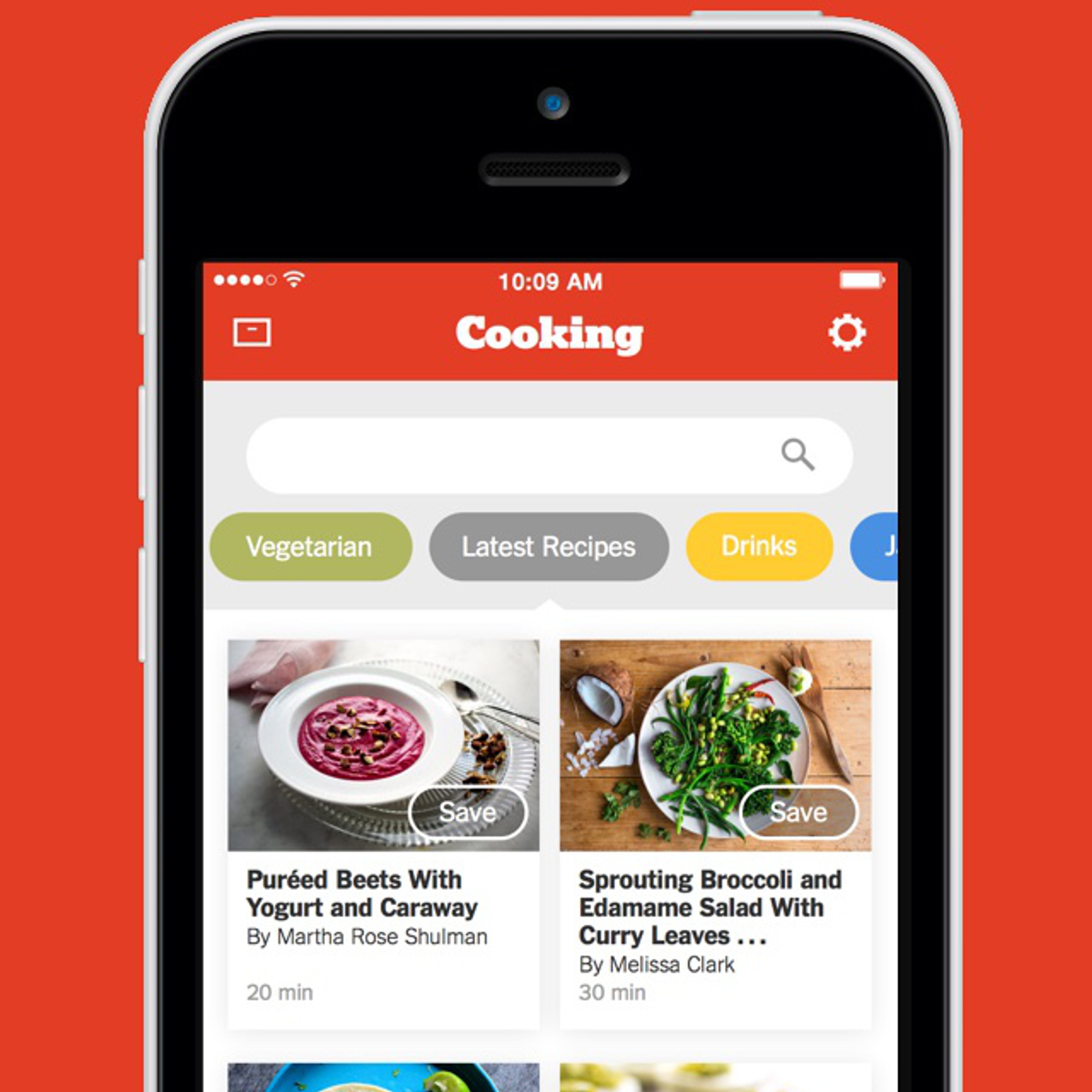 Another hobby I've been exploring during the pandemic is cooking, so I'm always looking for new dishes to try as I get more confident. I've been taking advantage of the New York Times subscription we get as Syracuse students, and discovered that the cooking section is full of awesome recipes as well as guides and tips for any level of experience. When I found out NYT Cooking has a separate app, I knew I had to try it out. NYT Cooking recipes are clear and easy to follow, and organizing your favorites in the app is a breeze so you can always come back to them. You can also create a grocery list within the app, which is perfect for when you want to try out a new recipe. I also recommend checking out the instructional videos and reading the commentary of other users on the recipes; I've learned so much through this!
These are some of my essential apps for getting through grad school. Hopefully they can help you too!
Newhouse Insider: The Best Seat in the House
Grad life can be pretty sweet. Do not get me wrong, the first semester did a pretty good job of kicking my behind, but it was all worth it. Now I am on a much-needed break from classes. I have decided to stay in Syracuse to attend as many basketball games as possible from press row.
Experience matters. Like I have said in blogs before, learning is essential for growth but applying what you learn is necessary to complete the growth process. And that is precisely what you are witnessing in the photo above. Thanks to my internship with Sports Illustrated at Syracuse, which I was able to pursue because of the Sports Media and Communications Track as part of the Broadcast and Journalism program offered by Newhouse, I was sitting alongside some of the best sportswriters like Mike Waters of Syracuse.com. One thing I always make sure to do is to greet people of such stature. Get on their radar, ask them questions, and show up to every single game possible.
My responsibilities? Watch college basketball at one of the most renowned basketball sights in the country (the Carrier Dome), keep a live update of the game on social media and write a few post-game articles. Along with that, I attend a press conference immediately following the game and write a story based on what the coaches and players discuss.
This is all new to me, and I am enjoying every second of it. The good thing about it is wherever I end up working in the future, I can use this unparalleled experience as a catapult to my career.
So, at the end of the day, going to class matters a ton, but what you do outside of the classroom will determine how much you want to do whatever it is you say you want to do. You see, in the moment of heat (or excitement), we all say things that we may not feel like doing later, so make sure you are one of those folks who "walk the talk," not just "talk the walk."
Once you are at Syracuse University, there will be plenty of opportunities to take advantage of. Pick and choose the ones that apply to your career and dive in head-first. Make all the mistakes now as a student, so you are well prepared for the 'real world' once you leave Newhouse.
Photography student earns Hearst Award honor
A video created by junior photography student Cole Strong took 12th place out of 90 entries in the Hearst Journalism Awards program's Multimedia Narrative Storytelling Competition.
The video, "Chasing the Dragon," was produced for The NewsHouse, the Newhouse School's student-run multimedia news site. It tells the story of Newhouse assistant professor Ulf Oesterle's quest to make the Paralympics. Oesterle teaches in the Bandier Program.
Future of news production the focus of NSF planning grant
Two researchers from Syracuse University are part of a team that received a $130,000 planning grant from the National Science Foundation (NSF) Future of Work at the Human-Technology Frontier.
The project, "Planning to study automation and the future of news production," brings together an interdisciplinary group of scholars to look at the impact of technology on journalists and journalism.
Kevin Crowston, distinguished professor of information science and associate dean for research at the School of Information Studies, is principal investigator. Keren Henderson, assistant professor of broadcast and digital journalism at the Newhouse School, is also part of the team. Other team members include Jeffrey Nickerson, professor at Stevens Institute of Technology's School of Business, and Lydia Chilton, assistant professor of computer science at Columbia University's Fu Foundation School of Engineering and Applied Science.
"The future work of journalists is great topic for our study because journalism has long been shaped by new technologies, from the printing press to the telephone to TV to the web, but guided by strong professional norms and values," Crowston says. "We're looking forward to understanding how this interplay shapes the use of smarter machines that can share part of the work."
Henderson is conducting a qualitative case study of a large market local television newsroom. "Under which circumstances do local television journalists embrace technological innovations to improve their ability to inform the public, including professional storytelling across platforms?" Henderson asks.
"Journalists today are understandably concerned about how automation is used as a means of replacing human workers," says Henderson. "Our team is approaching this research with the journalists' best interests in mind. We want to help members of the Fourth Estate to do their best work."
The planning grant supports the researchers as they develop a proposal for sustained research on the future of news production that may be supported by a large-scale grant from NSF. Their work would consider technologies such as natural language processing, crowdsourcing, information visualization and artificial intelligence. The planned work includes refining the project vision and theoretical framework, recruiting field sites and an advisory board, conducting pilot research to identify relevant technologies and impacts and planning of convergent research activities.
Buffalo Studios CEO Matt Fleckenstein '00: 'Start making things right now'
When Matt Fleckenstein '00 wanted to produce a live-action series outside of Los Angeles, he realized there was potential in his hometown of Buffalo, where he knew there were large buildings and factories that could be converted into sound stages. That's when the idea for Buffalo Studios, a full-spectrum film and animation studio, was born.
Right now, Buffalo Studios is in Phase 1 of development, with six sound stages and office space currently being developed on a vacant 27-acre lot that once housed a steel mill. The studios will be state-of-the-art facilities with support for all aspects of production, including VR, VFX and virtual production. Groundbreaking is slated for late spring, with a tentative completion date of late 2022.
Fleckenstein's professional credits include writing and producing for multiple Kids' and Family shows, including "iCarly," "Clifford the Big Red Dog" and the show he created for Nickelodeon, "Nicky, Ricky, Dicky & Dawn." Recently, we asked him about his journey from Los Angeles back to Western New York.
Have you always wanted to work in television and film?
My whole life, I've only ever wanted to do two things… to write and to own a business. Where I am now, my career is the intersection of those two things. Inevitably, if you're successful enough in your writing and lucky to be able to climb to a certain level of success, you become a producer as well. There are certain writers who don't really enjoy that, but I do. I like working on budgets, helping new writers to develop scripts and finding locations and coming up with creative solutions to make a production come together. So yes, it was always percolating there somewhere.
How has the pandemic impacted some of your projects?
I've been developing more animated projects because animation has always had a bit of a remote working element to it. There was a few-week hiccup [when the pandemic struck last March], but then animated shows shifted to fully remote and just kept on going. So, animation has adjusted well to the current climate. And that's what the buyers have been focused on. At the same time, live-action is still pretty stalled.
I've been waiting months on a green light for a show I have at Apple. I should be maybe 10 episodes into producing it, instead I'm waiting for production to come back in full. [The pandemic has] also brought new challenges to getting Buffalo Studios together, but we've adapted and adjusted and we're still on a great track to break ground in the spring.
What is one valuable lesson you learned at Newhouse that helped you get to where you are?
Professor [Evan] Smith said to us, "You better know how to make a cup of coffee." Of course, when I moved to LA, my first job was making coffee and picking up lunches, and it wasn't a shock because I was prepared for that. I was very glad that I had that grounded perspective in my education.
What advice would you give current students who want to work in the industry?
Start making things right now. Don't wait. If you're a writer, great. Find a director, find someone who wants to do costumes, find theater students who want to be actors. The best thing you can do is practice and make things. That's number one. Number two is, unless you have some great job waiting for you in New York or Los Angeles, either stay in Syracuse and continue to make stuff once you graduate or go back home where you have a support system and a place you can live for free and just work on your craft. To me, that's invaluable. If I could go back, I probably [would have] stayed in Syracuse longer. It was affordable, I had friends and could have continued to make things. spend a couple of years making things. Maybe by the time you graduate or a year or two afterwards, you make that independent project that goes online and it blows up, and you don't have to uproot your whole life.
What is your vision of the future for film production outside of Hollywood?
To me, the most exciting change over the past 10-15 years is the democratization of content creation. Anyone from anywhere in the world can build a YouTube channel and make a living, without dealing with the gatekeepers. I think it's amazing, and there are so many stories and talented people around the world who now have a voice for their work.
Taylor Huang is a sophomore magazine major at the Newhouse School.
Brown research on deepfakes published
Nina Iacono Brown, assistant professor of communications, published the paper "Deepfakes and the Weaponization of Disinformation" in the Journal of Law and Technology at the University of Virginia Law School. The article was judged one of the best law review articles related to entertainment, publishing and/or the arts published that year and selected for inclusion in the 2020 edition of the Entertainment, Publishing and the Arts Handbook, an anthology published annually by Thomson Reuters (West).
Luttrell research on social and digital media practice in public relations education accepted for presentation
Associate dean of research and creative activity and assistant professor of public relations Regina Luttrell's research, "Connecting Pedagogy to Industry: Social and Digital Media Practice as Research in Public Relations Education," has been accepted for presentation at the  International Public Relations Research Conference (IPRRC) this March.